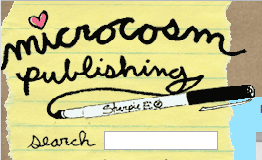 …and I know that Issue_03 is out (not on that soon), but I also wanted to let you know that Issue_02 is now available at Microcosm, an awesome zine distributor and seller. If you don't have Issue_02 yet, please consider purchasing it from them.
They wrote a super nice blurb too, including this gem:
"…It also has the most awesome, and quite possibly the only, series of poems about early 90's fantasy role play computer gaming."
Thank you.